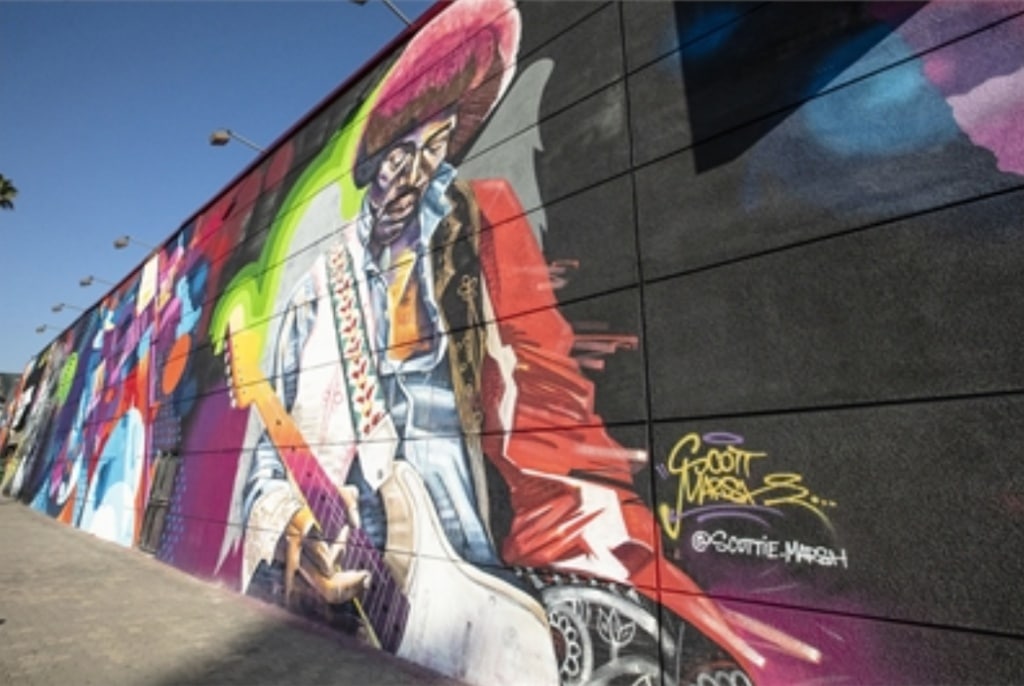 Jimi Hendrix Mural Tribute
In October 2018 Aussie Mural Artist was asked by the Guitar Centre to paint a Tribute wall mural of the late Jimi Hendrix on L.A.'s Sunset Strip to mark the opening of their newly renovated flagship store on Sunset.
In 1966 A teen-ager from the valley might end up jamming with Jimmi Hendrix , while a 14 -year old hitchhiking on sunset could get picked up by Phil Spector's limousine . "The Sunset Strip was like Las Vegas. People would actually walk from La Cienega to Gazzarri's at 2 and 3 in the morning. It was a 24-hour party, but it was all very innocent. In 1968 to open for the Who at the Hollywood Palladium and play their own sets at Thee Experience, a club at the corner of Sunset and Curson whose front entrance was painted with a huge Jimi Hendrix head.
Scottie Marsh is an Australian artist who picked up his first spray can at the age of 12 and began tagging the streets of his neighborhood .In his teens, his focus turned to train carriages. He embarked on several tours of rail yards across the globe, forging a reputation as one of the most talented graffiti writers of his generation and taking the so-called Sydney-style to bold new levels In 2009, he completed a Bachelor of Fine Arts, majoring in Painting, at the UNSW COFA (College of Fine Arts) and soon after began receiving commissions for large scale commercial murals. Marsh's work was sought after by international collectors his painting's are both created by brush and spray cans , his political paintings have garnered world-wide attention.