When our friends at Zanerobe came to us wanting to promote their latest clothing collection for the Gen 2.0 featuring NBA heavyweight Nate Robinson, we devised this offline to online interactive campaign. Building awareness to their REC range was the goal, utilizing their basketball ambassador Nate Robinson and if we could showcase what he is best known for which is his amazing leap. being 5.9 and able to not only slam dunk but to bring it with style
Introducing the "VERTICAL LEAP CHALLENGE"
How high can you jump? What do you think – 3 feet ? 4 feet ?
The Vertical leap campaign where people passing by were invited to take a sticker, write their email or instagram handle on it, then film yourself leaping as high as you can to slap your sticker on a wall as high as you could. Post your video on instagram and tag @zaneroberec #allday.
The prize on offer was the entire collection of the new range.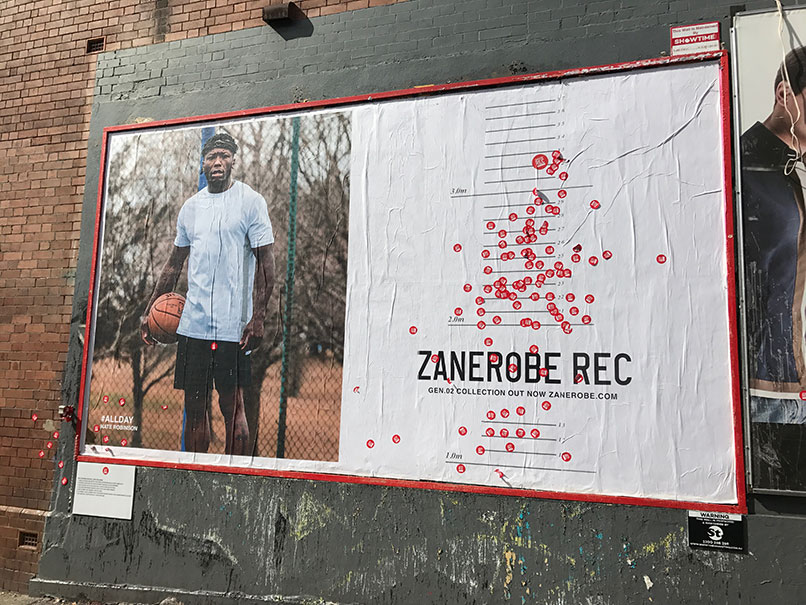 The Height to beat was 10.5ft which we indicted with Nate's sticker and the winner, @jon_letele with legs like a kangaroo and the agility of a ninja slapped his sticker at an astonishing 10.8 ft off the ground!
For this campaign we utilized our street level billboard on 412 Oxford st Paddington, with weekly craft and produce markets across the road at Paddington public school and The famous Sydney Cricket Ground and Football stadium minutes away our Street Poster / Billboard site  with a 10ft high x 16ft wide (3m x 5M) custom print and thousands of Zanerobe stickers. The campaign lasted 14 days with hundreds of people interacting and thousands joining in on social media. #zanerobe #interactivebillboard #mrglasses #guerrillaguru  #mega #streetposter 
NATE ROBINSON -VERTICAL JUMP HEIGHT 
Exactly How High Can Nate Robinson Jump?
In 2006, vertical jump testing revealed that Nate Robinson's vertical jump was 43.5 inches. This puts him in an elite category among the highest vertical jumpers of all- time.
His incredible jumping ability is what allowed him to win the NBA Slam Dunk Contest.
In fact, Robinson is the NBA's first three-time slam dunk champion!
He is best remembered for his amazing dunk over 7 footer Dwight Howard which resulted in a perfect score of 50 from the judges.
Nate Robinson Vertical Jump Training Workout
It is no secret that Nate Robinson has a crazy work ethic.
It is this work ethic that has allowed him to achieve such an amazing leap.
Well that work ethic combined with some super genetics.
He spends a lot of time in the gym priming his body for the rigors of pro basketball. 

Do you like what you see?
Drop us a line and let's make something that matter.
CHECK OUT ALL OUR CASE STUDIES: