When our friends at Zanerobe came to us wanting to promote their latest clothing collection for the Gen 2.0 featuring NBA heavyweight Nate Robinson, we devised this offline to online interactive campaign. Building awareness to their REC range was the goal, utilising their basketball ambassador.
Introducing the "VERTICAL LEAP CHALLENGE" How high can you jump? What do you think – 3 feet ? 4 feet ? The Vertical leap campaign where people passing by were invited to take a sticker, write their email or instagram handle on it, then film yourself leaping as high as you can to slap your sticker on a wall as high as you could. Post your video on instagram and tag @zaneroberec #allday. The prize on offer was the entire collection of the new range.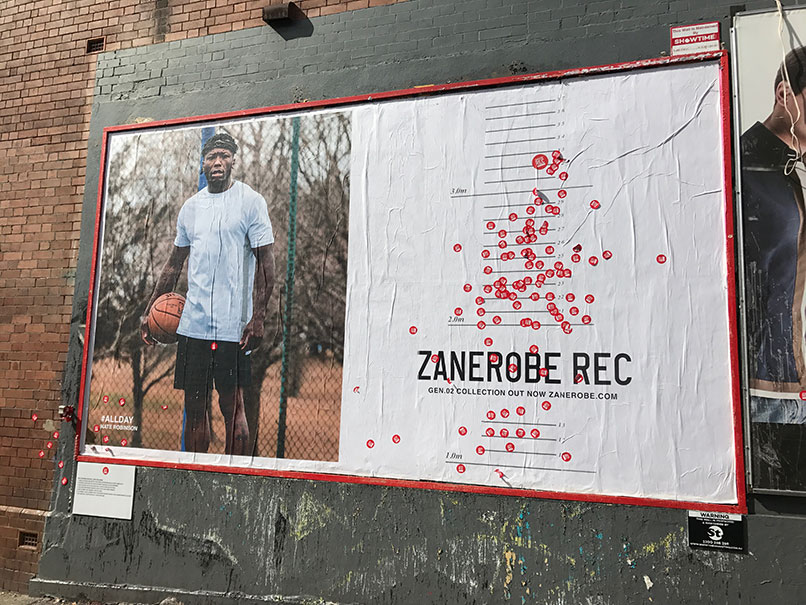 The Height to beat was 10.5ft which we indicted with Nate's sticker and the winner, @jon_letele with legs like a kangaroo and the agility of a ninja slapped his sticker at an astonishing 10.8 ft off the ground!
For this campaign we utilised our street level billboard with a 10ft high x 16ft wide Custom print and thousands of stickers. The campaign lasted 14 days with hundreds of people interacting with the campaign and more joining in on social media.

Do you like what you see?
Drop us a line and let's make something that matter.
CHECK OUT ALL OUR CASE STUDIES: